Eshop zemědělské potřeby
Katalog zemědělské potřeby
Vlhkoměry na obilí
Pytle na obilí
Líhně na drůbež
Kurník pro slepice
Škubačka drůbeže
Vakuovačka na potraviny
Sedačka do traktoru
ZPMS = Zemědělské potřeby M+S
Menu této sekce:
| Jindřichův Hradec - Noční prohlídky - zámek, hrad a Bílá paní | Auf dem Schloß Jindrichuv Hradec spukt es | Galerie fotografií Nočních prohlídek s Bílou paní | Napsali o nás - Noční prohlídky Jindřichův Hradec | Historie Nočních prohlídek - Jindřichův Hradec | Pověsti o Bílé paní - Bílá paní | Ubytování Jindřichův Hradec a okolí, penziony, hotely, Accommodation in the town Jindrichuv Hradec rozcestník | White Lady in the castle Jindrichuv Hradec in the Czech Republic |
---
White Lady in the castle Jindrichuv Hradec in the Czech Republic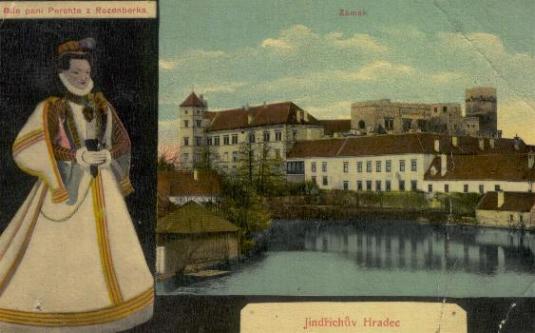 Night visits in the castle Jindrichuv Hradec in the Czech Republic with White lady
There are a lot of spectres and ghosts on the castle Jindrichuv Hradec in the Czech Republic.
You can experience personally only in south of the Czech republic in Europe.
Welcome to Jindrichuv Hradec in the Czech republic!
When the boss of castle in Jindrichuv Hradec PhDr Miloslav Paulík came to the castle in Jindrichuv Hradec, he started think of something what can make the 3rd biggest historical monument in the Czech republic more interesting for tourists. He knew, that something, what can attract tourist is the White lady. In her life, White lady´s name was Perchta from Rozmberk, she didn´t live in the castle in Jindrichuv Hradec. For this castle she was find out by historian Bohuslav Balbin in 17th century.

Firstly, PhDr Miloslav Paulík came with idea of something like astronomical clock. Mechanical figures of White Lady, that would turn up in a Black tower, would point at places, where she had been seen (as in a stories about Perchta). This idea was so expensive, that he had to leave it.
In 1994 he started with 1st night visits of the castle Jindrichuv Hradec. In its ending there have been seen the White lady with sounds of ringing the keys and wolfs howling. By that time, the only one visits in the Czech republic was only in Rozmberk castle.
It wasn´t enough for PhDr Miloslav Paulik. One year later he thought out, that it would be nice, if castle´s fountain started speak to visitors. It really started speaking its story with Eva Jakoubkova´s voice, Petr Pribyl´s music and text from PhDr Ludek Jirasko. Two years later there was a project, called White lady´s mysterious story. It was full of stories from Perchta´s life. It wasn´t only about words, but it was full of music, songs and special lights effects. Tradition of theatre night visits on the castle in Jindrichuv Hradec in the Czech republic with White Lady started in 1997.
That time night visits started in many other castles, so PhDr Miloslav Paulik decided to make night visits every year different. It was important for acters too, because they played more than 40 same repeat performances in a summer.
From year 2001 Artistic Agency Antonin Kaska carry on with Night visits with White Lady in Jindrichuv Hradec. This agency helped with this project from beginning of its existence. In 2001 there were 2990 visitors, in 2002 there were 3578 visitors.
In 2003 visitors were accompany by ghosts of main people living in the castle, well-known poisoner and her crazy sister. Visitors met young chimney-sweep Janek, who couldn´t distinguish chimney from Black tower. Janek´s father, chimney-sweep Koudelka because of is weight couldn´t climb the chimney.
As Ms chef liked chimney-sweep, so  laundress Andula liked Janek. In a chapel there were priest and friar Justin. In a garden young nobleman Adam II. from Hradec, who didn´t want to go sleep, practised for war against Turks. Then he invited visitors to a celebrations in the castle´s rondel. In the end, if the visitors were good, White lady have been seen. There were 4155 visitors last year (2711 adults and 1444 children).
This year visitors will see young nobleman again, men with sword and other renesance persons, who belong to everyday life of Black kitchen, rondel and other places of the castle. Of course there will be a lot of new spectres.
Author of the music is Petr Pribyl and Petr Bajer, author of texts for Nights visits with White Lady is Cenek Trecek. In addition to speaking fountain its authors are Petr Pribyl and Ludek Jirasko, there are a lot of new surprises. Visitors will go to Black kitchen in the castle in Jindrichuv Hradec, to the chapel of St. Spirit, in the castle´s garden and in the rondel.
Actress are from the castle´s theatre group and hosts from the Theatre company Jablonsky from Jindrichuv Hradec.
In 2004, spectators would meet castle´s waterman. He often goes bagging some foot to the Black kitchen with the devil. Ms Chef hates castle´s devil. Magdalena Dobromila from the castle wants married casle´s gentleman Cenek Jindrich, but he doesn´t like her. Spectators would meet knight without head and a lot of other characters. For english speaking spectators, we have scripts in english. Night visits in the castle Jindrichuv Hradec in the Czech Republic with White Lady  you could see every Friday and Saturday since 23rd July till 4th September 2004.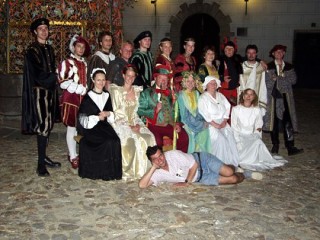 Night visits in the castle Jindrichuv Hradec with White lady 2005 you can see every Friday and Saturday since 22nd July till 27th August.
You can buy Nights visits in the castle Jindrichuv Hradec in the Czech Republic with White Lady  2004 recorded on CD, VHS and DVD here.
You must reserve tickets on the Night visits with White Lady in the castle Jindrichuv Hradec in the Czech Republic  here, because of huge interest.

Accomodation in the town Jindrichuv Hradec in the Czech Republic here
The incredible story of White lady
In the castle in Jindrichuv Hradec, there is living nice ghost of White Lady for centuries. Well known Czech historian Bohuslav Balbin signed Perchta from Rozmberk as a White Lady. This gentlewoman from Rozmberk was married against her volition. She had to marry Jan from Lichtenstejn. He gave her and his vassals a hard time, because Perchta´s father didn´t give him so big dowry as he promised before the wedding. Her cruel destiny is known from her letters. Apparition of Perchta causes a lot of mysteries. You ought to see her white figure in chambers of Jindrichuv Hradec, Trebon, Cesky Krumlov, Rozmberk and Telc. According to her gloves she is divining the future. If she is seen in red gloves, she give us notice of a fire. By black gloves she warn us of some disaster or death. White gloves divine good event like a wedding or birth of child. The legend says, that in a black kitchen she cooked sweet pap and gave it out in a celebration day to poor people. By her behavior she wanted to repair sins of her husband. There is a story, that a special Drink of White lady was cooked.
Translator Katerina Kaskova
---
The night castle Jindrichuv Hradec in the Czech republic
---
Travel Links Directory - Directory of travel related web sites with links to – airlines, hotels, vacations, destination guides, travel agents, agencies and travel information.
Travel Agents UK - online portal and global travel resource.

LinkPartners.com - The Easy Way to Find Link Swap Partners.
Read unbiased opinions about hotels and vacations at TripAdvisor.

Search Engine Optimization and Free Submission
---
Night visits in the castle Jindrichuv Hradec in the Czech republic with White Lady
---
www.elektricke-ohradniky.cz, www.zemedelske-potreby.cz, chovatelské potřeby, lesnické potřeby, zahradnické potřeby, jezdecké potřeby
Antonín Kaška - herec, moderátor, Cyrano de Bergerac, pořady pro školy, Memento, divadelní představení, Andrea Černá, pohádky, divadelní hry, prodej CD a MC, prodej DVD a VHS, vánoční dárky, dárky k narozeninám, hodinky, parfémy, dabing filmů, reklama, výroba reklamních spotů, casting, jazykolamy, Jindřichohradecké kulturní léto, pověsti, hudební skladatelé, herci, operní pěvci, jindřichohradecká činohra, noční prohlídky Jindřichův Hradec, Bílá paní, ubytování Jindřichův Hradec, Já zvoním! zdarma, zvuky mp3, sms tóny, budíky, hokej, fotbal, sport, hantec, reálné melodie na mobil, hlášky Antonína Kašky, hlášky Líbím se Ti?, Mikuláš, Vánoce a koledy, vánoční přání, novoroční přání, Valentýn, Velikonoce, přání k svátku, blahopřání k narozeninám, blahopřání k promoci, přání k svátku čarodějnic, svatební přání, přání k svátku matek, blahopřání k narození miminka, zamilovaná přáníčka, znamení, Hodíme se k sobě?, zamilované obrázky, auta a motorky na mobil, sudoku, šachy, karty - superhry na mobil, Chcete být milionářem?, sci-fi mobil, horor mobil, dovolená léto 2011 na mobil, psi na mobil, kočky na mobil, koně na mobil, draci na mobil, ryby, akvária na mobil, piráti z Karibiku na mobil, kancelář na mobil, krávy na mobil, falešní sobi na mobil, vyhledavače, výdělek pro webmastery, page rank, výměna odkazů, slovenské hlášky a zvonenia, blahoželania k narodeninám, želanie k meninám, vianočné priania, weisse frau, white lady, poslat SMS zdarma, Bob a Bobek, Rákosníček, Mrazík, princezny, rezervace letenek, prodej zájezdů, statik, prodej, prodej letenek
flash hry online, vánoční hry, logické hry, Garfield, Happy Tree Friends, Worms, StarWars, bojové hry, stolní hry, karetní hry, flash videa, Simpsonovi, Mario, střílečky, sportovní hry, velikonoční hry, zamilované hry, mahjong, Sonic, oddechovky, závodní hry, South Park, Rayman, koňské hry, skákačky, postřehové hry, puzzle, Tom a Jerry, Harry Potter
koňské potřeby, chovatelské potřeby pro dobytek, chovatelské potřeby pro ovce, lizy pro ovce, chovatelské potřeby pro prasata, chovatelské potřeby pro psy, chovatelské potřeby pro králíky, králíkárny, chovatelské potřeby pro drůbež, kurníky, líhně
noční prohlídky, zvuky a hlášky, SMS melodie, teen buzz, java hry, přání a blahopřání, Vánoce, hry online, worms games, mario games, easter games, mahjong games, horse racing games, logic games, Garfield games, Simpsons games, Christmas games, výměna odkazů, výdělek na internetu
pasti, myši, krysy, sklopce na kuny, odpuzovače myší
Reklamy Google: